The alarm woke us up very early -- 5:45 -- so that we had plenty of time to get up, get dressed, and eat breakfast before piling into the van for the drive to the trailhead. The night before we had laid out all of our gear, packed our daypacks, and packed everything else into our suitcases to get shuttled to the South Rim.
Over the previous 36 hours, there was a flight, some hanging out, a loooooooong drive in a big white van, a nice dinner, some drinks, and a night in a cabin just outside Grand Canyon National Park.
But now it was time to actually do this thing that we had agreed to do on Christmas Eve. Let's just say that Jen was very persuasive. Well, to be fair... We had been talking about hiking from Rim to Rim for years, but the logistics were always just too daunting.
So the chance to join up with an extended family and friends who had been making this trip every year for 19 years, well, we couldn't resist. Someone else organized the hotel rooms, the shuttles, and all that. We just had to turn up…
Oh, and did I mention that every year the hike is done IN COSTUME?!?!
We pulled up at the North Kaibab Trailhead right around 6:30, and soon the other van joined us. We were handed an emergency radio (yeah, these folks know what they're doing!), we chatted a bit, admired each others' costumes, and then posed for this epic group photo.
Wil and I took a couple of our own, too:
hike faces
superhero poses
We also took a quick photo with Cherry and Christine, who had ridden in the van with us from San Diego:
with Christine and Cherry
We took the photo and then suddenly realized that EVERYONE was gone. Just like that. Poof. Well, after all, they had crime to fight in the canyon….
Wil and I laughed because we were already the last folks in the group!
But we got our poles, strapped on our packs, and set off down the North Kaibab Trail.
We took it pretty easy -- Wil didn't want to tweak his bad knee, so we just moved along at a gentle pace.
The first landmark was the Coconino Overlook:
It surprised me how different the view from the North Rim (okay, just below the rim) was from the South Rim. But I guess that's because the North Kaibab Trail runs down Bright Angel Canyon, so you see that rather than "the big one". Within a few minutes we had dropped way below the rim -- surprisingly so.
Our next landmark was the Supai Tunnel, two miles down the trail. There's a corral for mules here (seems like an awfully short ride?), but it was deserted when we arrived.
standing outside the entrance to my secret lair...
the Supai Tunnel
Not long after we went through the tunnel, we entered into the Redwall, one of my favorite parts of the descent.
I know it's probably heresy, but I always love when a trail includes a well-integrated "built environment" -- like these blocks below.
A little farther along and we spotted the Bridge in the Redwall -- built after a flood in 1966 wiped out much of the old trail.
Okay, yes, I ran ahead to pose for this shot:
bowl of fruit in the Grand Canyon
I thought it was interesting that a second layer of planks had been laid down the center of the bridge …
Here's the view from the bridge -- see what I mean that it doesn't look like you expect the Grand Canyon to look?
Soon Wil joined me -- how awesome is that Hulk shirt???
View down the canyon -- you can see the path we'd be walking along at the center of the photo.
My North Kaibab Trail Guide informs me that this part of the trail "squiggles through the Redwall next to the Needle". Mmmkay.
squiggling
While searching online for a map of the North Kaibab Trail, I just found these images, which made me feel slightly queasy… this is a view of where I'm walking in the above image. Which, now that I look at it, is also scary.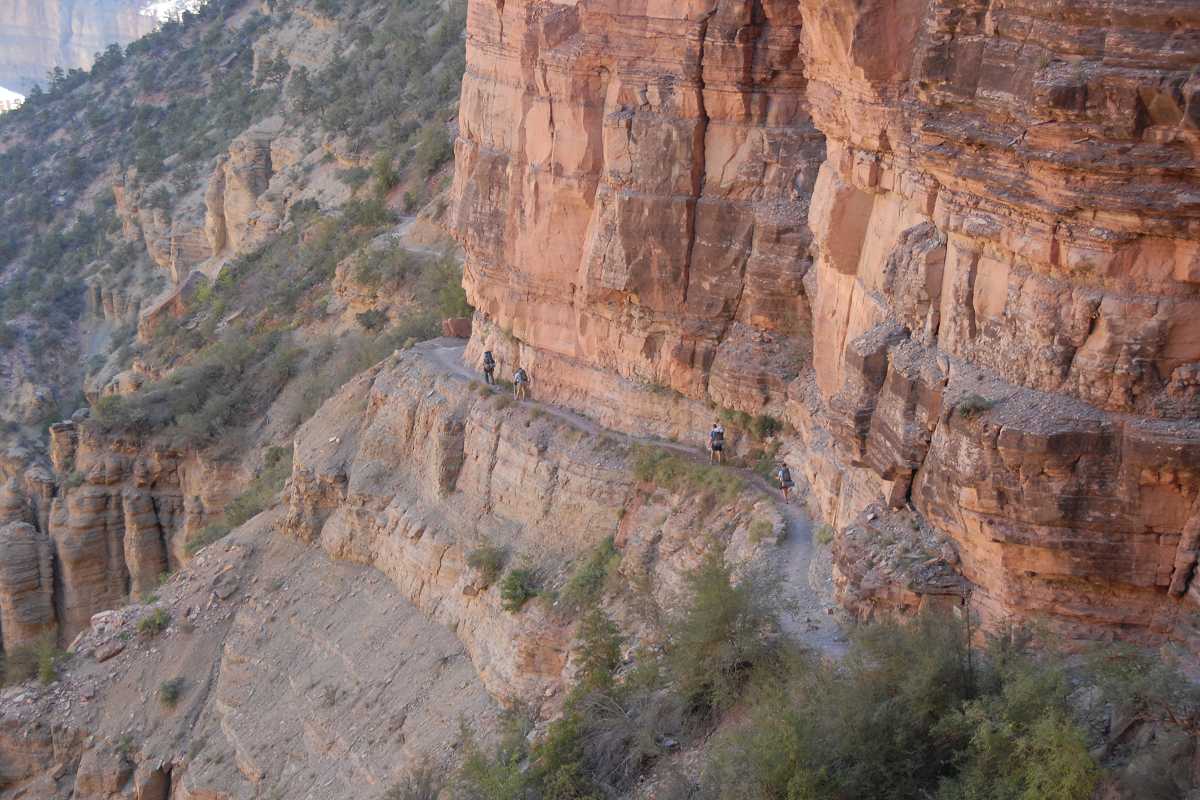 image by Bobs Pixels
And… wow. Let's just note that I am SUPER HAPPY I didn't notice this when we were hiking.
image by Titanium Harvey
As we hiked, we passed or met a lot of other folks on the trail, and were usually greeted with, "Oh, more super heroes!" It also made us feel like "part of the group" even though we were hiking alone. We had to pose for a lot of photos with a lot of strangers… especially when I still had the wig on!
My memory gets a little hazy here. At some point we lost contact with Christine and Cherry -- and shortly after going through Cottonwood Camp we passed a lone hiker… who turned out to be Magnus. He asked if C&C were behind us, and we said we thought they were ahead of us… but none of us were sure. Magnus hopefully said, "Are we close to Phantom Ranch?", and I had to break the news to him that we were still 5 or 6 (or more…) miles from there.
All I know is that at some point I looked back to see where we had come from -- wow...
… but we still had a looooong way to go before we even reached the river…
The trail was really pleasant for the next hour or so -- gentle, nice breezes, and at some point we joined a river.
Eventually we entered The Box -- a narrow canyon with walls made of Vishnu Schist. Is it super dorky to have a favorite rock? Yeah, I know it is.
Finally… we spotted this. Ahh, heaven… it's Phantom Ranch!!!
Of course, we were slightly stunned by the sight of buildings, water… shade trees… and weren't quite sure what to do first. We went into the main building, thinking we might get a beverage…
But it was crazy busy in there, so we left quickly. I do wish I had been able to see the pins or patches or whatever -- that was high on my list -- but it was so noisy and crowded that I just needed to get out. Of course, not before I mailed two postcards!
Jen had told me that it was possible to send mail from Phantom Ranch, and that that mail would be taken out by mule. So on Friday night, Wil and I wrote Jen and Mike a thank you postcard that we mailed from the bottom of the canyon… along with a postcard to ourselves. How disappointed was I to learn that there's no special postmark?!?! Yeah, well, it's the thought that counts!!!
We headed over to where some of our gang was eating lunch -- Batwoman, Catwoman, Wonder Woman, and Captain America (aka Carolyn, the matriarch of the crew; Cheri; omg, I can't remember her real name; and Monica). We sat, rested, ate sweet and salty food, changed our socks, and got ready for the rest of the day.
While we sat there, we heard that "Snow White and Prince Charming" had been through earlier -- turns out the folks meant Spider (wo)Man and Silver Surfer… sometimes it's hard to know. )
Magnus arrived as we were refilling our water -- I was proud to note that I'd already had nearly 3 liters (which is waaaaaay more than I can usually make myself drink). He didn't rest long, and actually headed out just ahead of us. None of us had seen Cherry and Christine for hours, which made me feel edgy.
A quick pit stop, however, and we headed out -- managing not to miss the trail turnoff!
Very soon we met up again with Angus and finally spotted this:
Hooray! The Silver Bridge! The Colorado River! The "halfway point" (even though we'd traveled 14 of the 24 miles).
The bridge felt narrow but otherwise very stable. I somehow managed not to get a good picture of the river itself, but when you looked at it, it was thick and brown but very fast-moving… like Willy Wonka's chocolate river.
Starting across the bridge:
I tried not to look down, but Wil pointed out that the bridge was essentially see-through. So when you were walking, the grating almost "disappeared" because you could see the current of the river. Yeah, a little barftastic…
Safely across!
Just as we reached the far side of the bridge, we met a family -- mom, dad, bored teenage son. The dad said, "Oh, okay, you're the Hulk, and you're…. Zorro?" I was about to tell him, when the bored teenage son said, "She's Ms. Marvel, DAD." I said, "Yeah! You're right! You're the first person to recognize me!" feeling pleased. Then he ruined it by saying, "Her powers are pretty generic."
So I zapped him with radiant energy.
The next stretch, known as the River Trail, crosses a sand dune habitat. Yes, sand. (Weird.) So though it wasn't particularly steep or challenging, it was a bit of a slog. Cue the opportunity to take some photos of the Colorado River:
And a nice panorama of the river:
Hey, this isn't so bad… only 9 miles of this?
(Yeah, don't look at the high cliffs to the left…)
Right around where this photo was taken, we met our first mule train. (Luckily there was a nice wide space to stand in off the trail!) The mule guide asked me to stop my "cape" from flapping in the breeze. I didn't know what he was talking about at first… then realized he meant my sash. I was so busy and nervous about spooking the mules that I stood stock still, and didn't get a photo.
Here we're just starting to go up… note the complete lack of shade…
We were heading into the sun along Pipe Creek… not very steep at this point, but… then we hit the Devil's Corkscrew. Long, steep switchbacks, with (at the time of day we hiked it), essentially no shade.
This photo looking down at the Corkscrew does it a little more justice… and how much nicer would it have been in the shade?!?!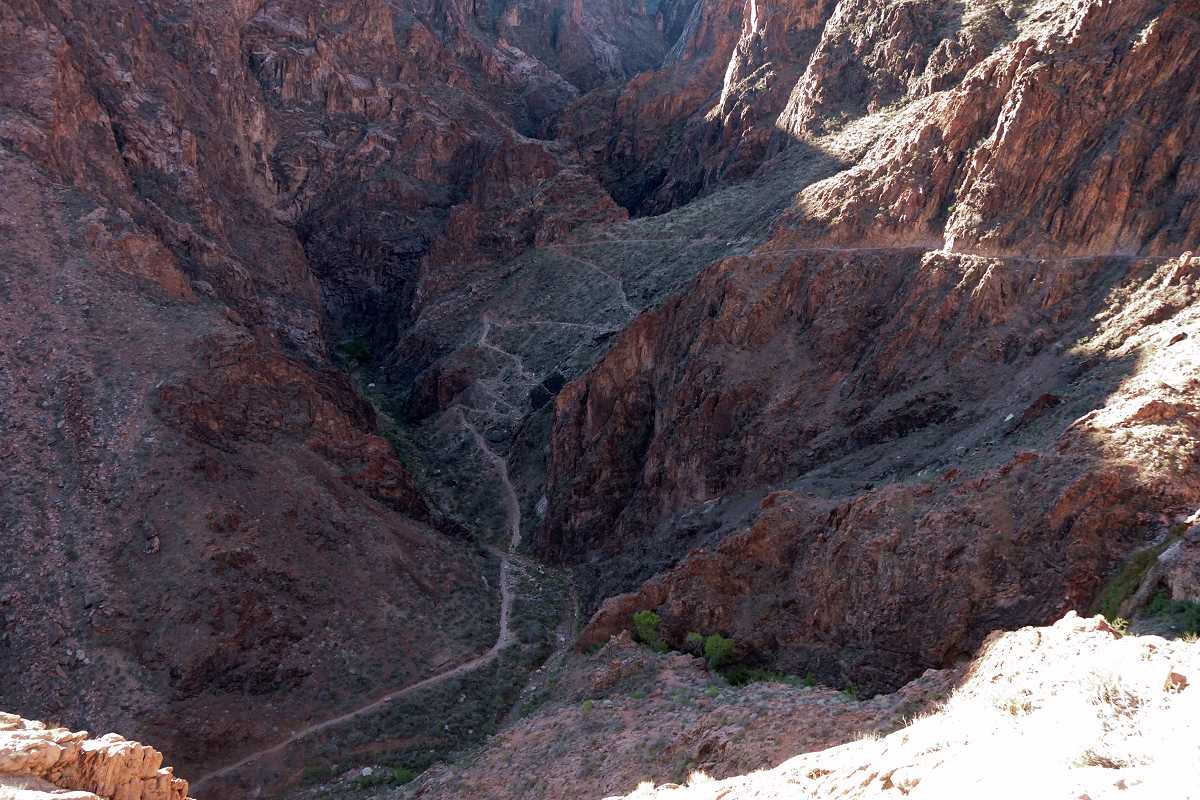 image by Bobs Pixels
The one good thing was that when we would turn and look back into the canyon, it started looking much more like the view we were expecting. Except for the high ridges all around us…
I think it was the hottest point of the day… we hadn't reached Indian Gardens yet, but I knew we were close. Wil decided he needed to stop. I tried to get him to keep going -- that if we just kept going a little farther, we would get to Indian Gardens with shade and benches and water and such. But Wil would not be moved. He refers to this part of the trek as his "Incredible Sulk".
After something to eat and something to drink, we did move on… and soon arrived at Indian Gardens. We put on our "cooling neck things", Wil got some more water, and we sat for a little while longer. We also met up with little Padme, little Batman, and Indiana Jones -- they had driven around and then hiked down to the campground, and would be hiking out with their mom, aunt, and grandmother. Very cool.
All I wanted, at this point, was to just keep going. I *think* this next photo is above Indian Garden. But everything is pretty fuzzy. :)
See, Indian Garden is down there. And they have shade.
While we were resting, Magnus passed us. He was determined not to stop, not to rest, and to just keep moving. He said he couldn't stop -- that seeing us walk away along the trail at Phantom Ranch was "so disheartening".
On we went -- our next destination the 3-Mile Resthouse. I should point out that that was only 1.6 miles past Indian Garden, but still So Far.
This is probably part of the "Jacob's Ladder" switchbacks. Again, photos are a GREAT excuse for a break…
We pulled in at 3-Mile Resthouse so I could get some water. I was super glad I did -- my Camelbak was almost empty. Looking back down the trail it was amazing to see how quickly we had climbed.
No, that's not snow. It may be "2-Mile Corner", where the rocks are covered with lichens.
We just kept going up, up, up… but the view was getting more and more "right".
Somewhere along here we passed the Mile-and-a-Half Resthouse, and let me tell you that a mile and a half is still a long long way to go. We saw Hulk #2 (aka Reid) resting -- he said he was okay but ready to be done. We decided to keep plugging along.
Switchbacks? Yeah, there are switchbacks.
We started hearing the occasional whoop -- which meant we were getting very near the trailhead. So no more photo stops -- we were just pushing to the top. We rounded a corner and could see some of the crew…. I don't know that I've EVER been so happy to see a "finish line"!!!
that smile *is* genuine joy, I promise!
Whooping, cowbells, hugs -- we were done! Mike handed Wil and me shots of tequila, followed by cans of Grand Canyon beer. I can't tell you how nice that was! Mike had driven the van around from the North Rim to the South Rim, checked us all into our rooms, and then set up a "finisher's area" at the Bright Angel Trailhead. Such service!
We took the obligatory post race… erm, post
hike
photos:
Before long, Robin and Hulk 2 arrived, to more high fives and whooping (and beer):
The first thing out of Jen's mouth when we came out of the canyon was, "Are we still friends?" Of course we are!!!
One thing I really loved was that everyone stayed around waiting for the hikers to come out of the canyon… drinking beer or wine, eating snacks, and just hanging out. We also made a point of cheering for other hikers as they came out -- even sharing our treats with them.
Now, I was still a little worried about C&C -- no one had seen them since we "lost" them -- but Jen got a text from Cherry when they reached the Mile-and-a-Half Resthouse. So a few of us decided to gather up some treats and hike down to meet them. Jen, Magnus, Wil and I put on our headlamps and slowly hiked down. It was exciting to see meet them and cheer them the last few hundred yards to the finish!
We soon piled back in the van and went to our rooms. We were supposed to go have a celebratory dinner, but… well… we ended up begging off and grabbed a surprisingly delicious veggie pizza at the lodge next door and just relaxing in our room. A perfect end to an amazing day!
Now, I know what you're thinking -- when are we going again?
My initial thought -- moments after finishing -- was NEVER AGAIN.
By the next morning I was halfway convinced that we would go next year -- it's their 20th year of doing the hike! I could design medals! It could be amazing!!!
But now I think we'll take some time off. One of the things that we would have preferred was to have some more time at the Grand Canyon. I love going out to Hermit's Rest, walking the Rim Trail, heck, I love looking in the gift shops. Our trip was too short (despite the HOURS in the Canyon itself!).
Also, we love love love Zion National Park. I'd love to spend time there again sometime, so combining a Grand Canyon hike with another visit to Zion would be wonderful.
That said, we've now been to the Grand Canyon 3 times -- and we have so many other places we'd like to go! So maybe we'll put the another rim to rim hike on the back burner for now.
Huge thanks to Jen for letting us tag along, Mike for being the best chauffeur, caterer, and host imaginable, and the entire Rim to Rim 2014 crew!