Korikancha panorama with Inca flags in the courtyard
Today was the optional day where you could choose to buy a half-day horseback riding trip or a full-day whitewater rafting trip. We thought everyone else would be doing one or the other, but it turns out that less than a third of us did.
architectural clash!
I had been looking forward to having an extra day to explore Cusco, so we decided to start at the Korikancha "ruins" -- which have been largely incorporated into a Dominican Convent -- making for a pretty striking architectural clash. You walk in to a large, sunny courtyard, what used to be the eponymous "courtyard of gold" ("korikancha"). During Inca times everything was covered in gold, including side temples dedicated to the sun and the moon, as well as thunder and the rainbow. There was also a beautiful side garden that we wandered down into.
The stonework was exquisite, again -- difficult to see how they could have made such perfect joins, and built such enduring walls, without iron or mortar...
temples of rainbows and thunder, now protected by glass
After that we headed over to the cathedral. The plaza was still PACKED with a procession -- hundreds of groups, each in traditional dress from different areas, dancing and drumming. But once we figured out where the entrance was, and the woman who took an absurd amound of time and discussion before paying for her single ticket finally wrapped it up, we entered a dark, candlelit oasis of calm.
The cathedral has two churches attached, like flanking assistants. Each of them is beautiful, with dressed saints in alcoves, lots of mirrors and gilding (the more to entice "ignorant locals" in), but surprisingly little stained glass. Which just now occurs to me is probably because of the number of earthquakes.
The city is preparing for the Corpus Christi festival, so the cathedral nave is filled with statues of saints on litters, all getting ready to be paraded through the city. We didn't manage to see this particular parade, though we saw lots of others!
The two most famous things in the cathedral are The Lord of Earthquakes -- a crucifix that was carried around the plaza to help stop a major earthquake and has since been revered and celebrated in an annual procession: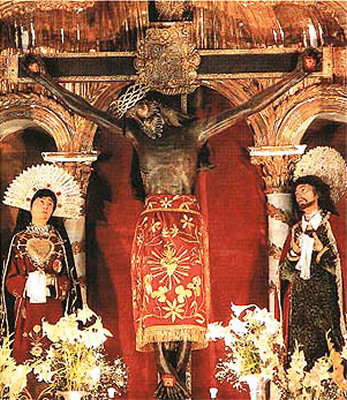 Lord of the Earthquakes
-- and a Cusquenian version of the Last Supper where Jesus and the disciples were feasting on tasty Peruvian dishes, including what is usually described as roast cuy (guinea pig), but apparently is a wild chinchilla -- which somehow relates to being a sacred animal to Amazonian tribes…
Is it a guinea pig? A chinchilla?
chicken, cuy, and ???
Eventually we headed back out to the Plaza, and then back to the hotel for a siesta. In the afternoon we headed out again and made our way over to the huge covered market. The procession was still going strong, and it was clear that different parts of town were staging areas for the huge procession around the plaza.
I don't know what the drinking-big-nose-dancing-guys "mean", but they were my favorite sort of troupe
The market was massive and a little overwhelming. Outside was a plaza with a variety of games of chance: a ring toss over bottles of soda and beer (ring a bottle, win it), a coin toss (land a 10-cent coin on a square without touching any of the colored tape), and fussbol. Then inside, where things were grouped by type: fisn, meat, cheese. We even saw a woman selling cat food by the kilo -- fantastic! I admired the fresh cheese but figured I couldn't go through an entire kilo. Wil bought a big bag of fresh coca leaves.
bulk cat food!
inside the market
ring toss
coin toss game
We wandered around some more, visited a proper supermarket, a nearly empty wholesale outlet complex (VERY clean toilets, apparently), and eventually worked our way back to the plaza, where the celebrations were STILL going strong. We stopped at the little market for another 7-liter jug of water and then headed back to the hotel.

Had dinner at Mutu -- a starter of "quinoa sticks" (a bready mini turnover full of cheese and quinoa), a giant and gorgeous lentil burger ffor Wil, and an amazing veggie sandwich for me -- avocado, tomato, egg, cream cheese on toast. Also great service. Probably the best meal we had in Cusco.
quinoa sticks
lentil burger
omg avocado sandwich!
We also had our trek meeting that night, where Victor and Erik explained the basics of the trip, how the days would be structured, what to expect, etc. Many, many questions were asked and very patiently answered. We also collected our rented sleeping bags and duffels -- the next day we would pack!