Surprisingly NOT sore … other than from sleeping on the ground. One thing I wish had brought: at least a half-length thermarest cushion!!!
our camp on the second night
night #2's camp at Paqaymayo
A little tense this morning -- Carol still very ill; plans have been made for her to be taken down to Aguas Calientes by porters. Not sure why, but this reduces me to tears before breakfast. I feel bad I didn't try to talk to her, wish her good luck, etc.
Today was meant to be the longest day, distance-wise, with two passes over 16 KM. After breakfast and setting out we climbed the first pass, a mere 350m over about 3 km -- pretty gentle. (By comparison, we hiked from 2650m at the first night's camp to 4200m at Dead Woman's Pass.)
bundling up for the chilly morning
lots of stairs… and stranger trekkers
It was a little brisk this morning, so we wore more layers than usual. Of course, once we got moving, we all had to stop and strip off a bit!
porters packed up and rolling
sun's out, layers off
okay, so it was still a bit steep in places
Our first stop was at a smallish ruin. We listened a bit, but also had time to wander on our own. I think we mainly stopped to gather the troops a little.
Then we got back on the trail and headed up. This may be the moment when Andy, Annie, Wil and I decided to "spark up" for the push to the pass. (Leaf up?)
porters absolutely unfazed by the hill...
Gayle rocking it
I had decided I wanted to take a picture for Carol somewhere lovely… but I couldn't figure out what I wanted to do. Luckily, when we reached the first pass at Runkuracay, there were a few folks from our group and everyone rallied to take this picture.
our picture for Carol -- Annie, Debra, Nancy, The Super Nice Guy Whose Name I Have Stupidly Forgotten, Laurie, and Wil, plus Suzane at the top
view from the pass
always amazing to turn back and see where you've just come from!
bowl-of-fruiting with the girls
first glimpse of Sayaqmarca
Later poked around another set of ruins -- Sayaqmarca -- given that the day wasn't expected to be bad, we dawdled and messed around quite a bit.
steep stairs to get up there
no, really, I mean it. STEEP stairs to get up there!
some of the gang, chilling out
Add caption
Also while we were up at the ruin I noticed something unexpected… 4 porters carrying a stretcher. It took me a moment to realize that was Carol, so I quickly looked away. It seemed she was in good hands and well on her way to the doctor.
Had our first glimpse of Qonchamarca, too:
heading down to Qonchamarka through "Narnia"
Don't these moss-covered stairs just look like something out of a Narnia book? Further up and further in!
This is approximately when we figured out what a "cloud forest" was…
Lunch at some point -- on a weirdly open plain called Chaquiquocha, with lots of room. Erik rejoined us, having run down the trail with porter bags. Carol had been taken to the hospital, given antibiotics, and checked into a hotel to recover. Fave part of this lunch? A basket of broccoli. Best. Broccoli. Ever. (Somehow.)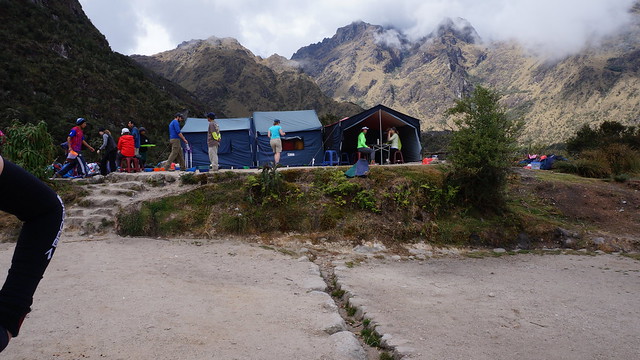 After lunch Wil went to the bathroom. Weirdly enough, everyone left during this time, apart from Annie and Andy. In fact, Annie said that she had gone up to the bathroom and come back to find only her and Andy's packs on a tarp and almost all of the porters packed up and gone.
I especially loved when the trail looked like this -- magic!
Erik joined us for a little while
at the pass
this looks like a GREAT campsite!
Eventually we hit the third pass, only noticeable because it was out in the open, and we saw Erik talking on the phone. We started trading places with a group of Englishmen we'd noticed the day before -- a friendly group.
We visited the ruins at Phuyupatamarca ("City Above the Clouds") to see the stone baths. Very cool to think of fountains still running after hundreds of years!
Annie bowl-of-fruiting like a boss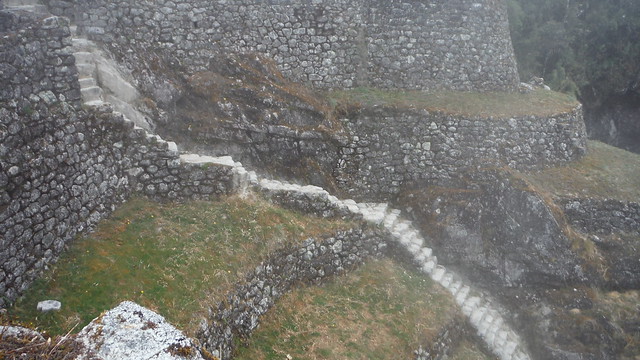 porters taking a well-deserved break
Started the looooooong trip down -- something like 2300 steps? Also a stretch with a crazy steep, almost spiral staircase. In rock. On a hillside.
I assure you, this staircase is just as freaky in real life
Saw a girl from another group trip, hard, and land on her face. He guide was right with her, offering to carry her to camp. She was crying a bit, and said, "I kinda just want to wrap things up." Poor thing!
Got near camp and were met by Marco, who told us we could get to camp in 30 minutes, or 90 minutes if we wanted to visit some ruins. At first we weren't sure, but decided, what the hell, let's just go. The ruins were pretty -- though we didn't spend a lot of time at them. Amusing aside: we weren't sure we knew how to get to camp from there, but we figured if we saw Annie and Andy we'd be fine. And then, suddenly, there they were!
calm a llama down...
We got to camp -- later than usual! -- but got a tent between Annie and Andy and Dawn and John -- perfect location. Were offered the chance to be taken to Winay Wayna, but couldn't muster the enthusiasm. This is my only Inca Trail regret!
third night camp -- yeah, that's a 10-foot drop off at the left, so?
one of our awesome porters
While in the tent Wil farted a little noisily, and then said, "Sunny Delaney! That's disgusting!" I said, "William Holder, you are the WORST MAN IN THE WORLD!" which made John in the next tent chuckle.
The usual amazingly good dinner was capped by a huge surprise -- they had baked us a CAKE for dessert. A great big cake. Two, actually. In a camp kitchen. Amazing!
CAKE!!!!
Tonight was meant to be an early night, and we had dinner on schedule. Bobbi Joe and DD came in quite late, but it meant we saved them a tent on the lower level so they didn't have to climb any extra stairs. I remember feeling very sad for Bobbi Jo -- she was just so beaten up and tired and she arrived in exhausted tears. This made me extra sad -- on the other days, she came in late and tired, but with a smile. I figure the exhaustion just adds up -- all of us, getting progressively more tired, day after day.
After dinner we had a ceremony-- two in one, it turns out. All of the porters introduced themselves to us, and we all introduced ourselves to the porters. It was astounding to learn what the different porters were carrying -- turns out that the porter we liked best (for his cheery "holas!" on the trail and his beribboned hat) was carrying EGGS. Eggs! Someone was carrying dozens of EGGS!!!! Also humbling: one man was carrying the trash we accumulated on the trail… which would add up to 22 kilo by the end of the trek. We also paid each of the porters and thanked them individually, which was nice. Apparently, normally the "meeting of the porters and the trekkers" happens on the first night of the trek to build solidarity, but with our group arriving at such different times, it wasn't possible till now.
We knew we had an early morning -- to get the porters to their 5:30 a.m. train, we needed to get up at 3:15 for our breakfast at 3:30, and get in line for the hike. So we all sorted our stuff for the next day and went to bed as early as possible.
Oh, more bad news on this day: Victor's 5-week-old baby daughter had to go to hospital, so he left the trip to run home to Cusco. But a bit of good news: Carol was feeling better and would be meeting us the next day in Machu Picchu.
our amazing trekking company -- can't say enough about the service and the porters