your intrepid explorers
Amazon panorama
Feeling better, apart from this stupid headache! We had an early breakfast at 6:15 before meeting at 7 to go to a clay lick where we hoped to see birds. A 25-minute boat rode followed by an hour of hiking on pretty uneven territory.
perky this morning!
heading downriver
today's crew
I assure you, there are monkeys in this photo. You'll have to ask Wil where.
another excellent walking tree
muddy!
on the trail
hilly
proper muddy
Jesus had to keep reminding people to keep quiet so we could see birds. A couple of times we glimpsed birds up in the canopy. Dagger would quietly set up a telescope and a few folks would look before the birds flew away… but we never managed to see them.
brief glimpse of a macaw in a tree
BUT, when we got to the bird blind, Jesus split us up into "people who had seen birds" and "people who hadn't seen birds". It was like getting into the VIP blind :) (Not that it was any different; I think it just guaranteed us front-row seats.)
the blind
inside the blind
#birdblindusie -- significantly less perky!
the view from the blind
We sat in happy quiet watching for birds; seeing pairs of scarlet macaws and red and green macaws. We didn't see any of them actually visit the clay lick, but we did see lots of birds on trees, and several of them flying. I was surprisingly thrilled by the sight of macaws in the wild, flying. Of course, I also kept singing the Tiki Room song over and over in my head. (The boys in the back are called macaws. Because of their claws? No, because they're macaws…)
scarlet macaws through the telescope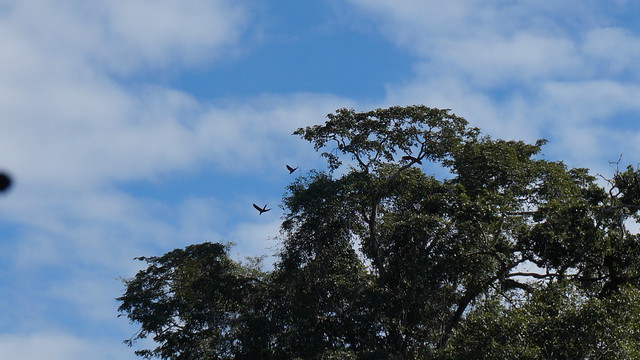 scarlet macaws flying
A pair of red and green macaws came closer and spent a long time sitting not too far away, grooming. Apparently, macaws mate for life, which always makes me both happy and sad.
red and green macaws, "actual size"
a group of scarlet macaws flying
scarlet macaws flying -- not the best pic but you can see their colors against the trees
#birdblindusietake2 -- more perky having seen birds!
After an hour or so we retraced our steps through the deep, sucking mud. Because my boots were a half-size too big I nearly stepped out of them a few times. Ewww.
Jesus headed for the boat
weird clump of butterflies in the mud on the bank
Got back after lunch had already started -- lots of new faces in the lodge and -- GASP!!! -- someone had taken our vegetarian entrees! We think one of the new folks just thought, "those look good" and took 'em. There was a lot of panicked muttering by the staff about "who took them?" and "where are they?" but the manager quietly pointed us to some rice and veggies that were vegetarian. We'll never know what our special lunch would have been. ;)
After lunch we had a quick nap in the room. Did we mention the ceilings?
chilling in the hammock
returning my muddy buddies
During our "down time" after lunch, Wil and I sat in the balcony of the lodge watching a pair of oro pendula birds starting to build a new nest. Lots of flying back and forth with beakfulls of grass, then tugging and weaving, all high up in a palm tree. Pretty cool. We also watched the staff disappear down the trail to go play soccer -- glad they get some proper downtime, too! Sadly, I had just decided I wanted a soda pop. :) Oh well, I didn't need it!
oro pendula birds
old oro pendular nests
Amusing: Jesus brought out a Brazil nut "clump" and a machete and challenged us to open the outer shell.
a few folks got in a few good whacks
Jenny got in her whacks, then LOST HER MIND
"Where is my coca candy??????"
Eventually Dagger opened it, and we were able to try "fresh" Brazil nuts -- which are actually super nice. Oh, very cute thing: the whacking of a Brazil nut is clearly like the whirring of an electric can opener sounds to a cat to this guy:
He came scurrying out and just sat nearby until the nut was open, knowing that at least a few of us would just throw him a nut. Clever boy.
Jesus, one of our awesome guides
Later in the afternoon we paid a visit to a farm across the river that grows much of the produce served at the refugio… including the big leaves the packet on the first day were served in! Jesus and Dagger led us around, showing us different plants and giving us tastes of a lot of different produce, including mandarine oranges, coconut milk, bananas, sugar cane, lemongrass, a large and very mild citrus fruit (Wil, Sue, and I agreed that it would be very nice with gin), a chirimoya (which looked like a dragon's egg), and a strange lumpy fruit called a lucuma that had a "citrus custard" sort of consistency. Also amusing -- there was a fruit called a guanabana that we sampled and even tried the juice. I thought that it reminded me of a soursop from Indonesia… which, apparently, it is.
Mark up in a tree as Laurie looks on
Dagger
guanabana (doo doo dadoo doooo)
Jesus's dagger is bigger than Dagger's dagger...
view from the farm
Best bit: Jesus and Dagger gave each of us a small handful of leaves and drizzled water in our hands, telling is it was "like natural soap". Actually, it was like natural DYE, and turned our hands various shades of red and purple. Very funny. (And it washed off super easily.) And a nice, mellow excursion.
On the beach -- where I scooped up some "sand" (mud…)
nice sunset on the river
That night I finally felt well enough to have a cocktail, so chose the absurd "Blue Morpho" since we'd seen some of the butterflies… and since I can't resist a blue drink. Fruit juice, rum, and a bit of blue curaçao for color. Tasty, but stupid looking!
a Pisco Sour and a Blue Morpho
Then a bittersweet dinner -- felt sad that the trip was almost over! Wil and I had been chatting all day about how we wouldn't normally have gone to a lodge like this, and were not sure how we would expect to visit the rain forest -- but how happy we were to have joined in.
We also kept laughing to ourselves that our plan had really just been to relax in the lodge drinking cocktails, but that we had ended up going on nearly all the excursions instead. (Wil only skipped the medicinal plants walk, I missed that and the mammal clay lick.)
At dinner we got the news about the next day -- and a reminder that we wouldn't have much time to make changes at the office. Amazingly, everyone had already come to terms with this, so everything was cool.
We packed our bits and pieces, laid out our clothes for the last day, and had one last blissful rainforest sleep!